FURNITURE HACKS
This is one of my hobbys. I like finding new uses for my old stuff! But I also like finding new uses for the crap that people give and throw away! And I have found my people at Ikea Hacker, a place where people find new and different uses for Ikea's great products. It's a great way to Recycle stuff.

My Omar Potrack:
Here is my potrack- it is made from the shelf unit of an Omar shelf unit that I didnít have use for anymore. I simply took some eyebolts and found the studs in my ceiling, some eyehooks and fender washers to cover the holes on the omar unit, and some chain and clips to hook it into the ceiling. I suppose one could use molly bolts to hook in the ceiling, but I felt safer using eyebolts directly into the studs since my cookware is extremely heavy.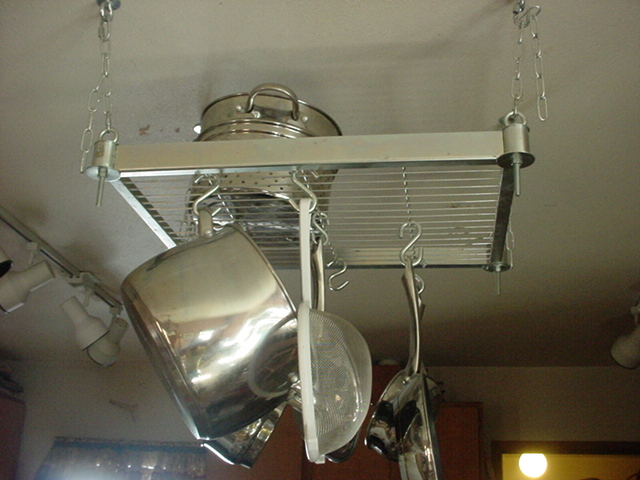 THANKS FOR THE MEMORY (TABLE) :
I saw a hack on Ikea Hacker and just had to do it!I made a memory table
http://ikeahacker.blogspot.com/2008/01/lets-make-memory.html
Super easy- One IKEA LACK Table and one IKEA RIBBA FRAME. just tape the back of the frame too the table with Velcro and it is done!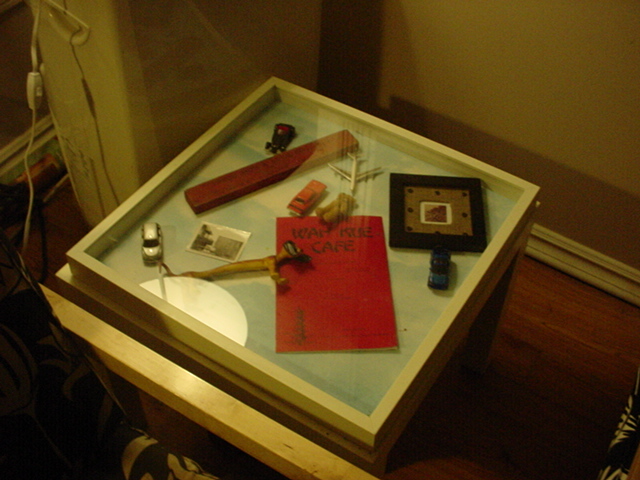 MY "GREEN" IKEA LILLBERG LOVESEAT: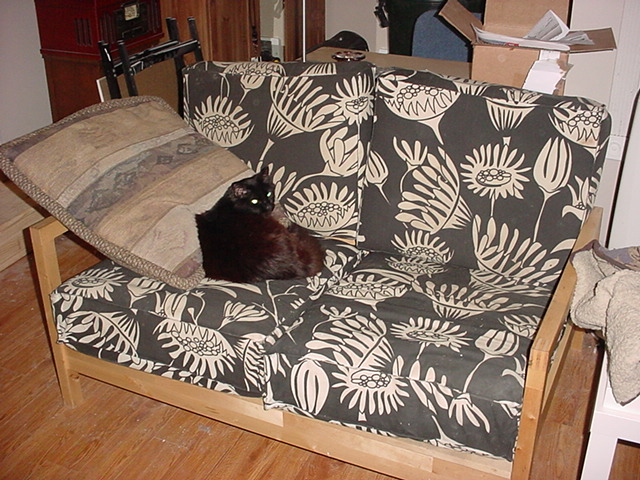 My IKEA LILLBERG love seat isn't exactly a hack; I found the frame at the Ikea AS IS section of IKEA Seattle for $75. Then I purchased two Froarp seatcovers for the lillberg from the storefor $40. I went home, cut up some old foam rubber seat cushions with my handy electric carving knife (the best thing to use when cutting foam rubber) to the right size, stuffed the seat cushion covers and VOILA a new Lillberg Love seat for $115. Sammy the Cat loves it!

My LERBERG DVD RACKS
Super easy hack- I simply connected 3 LERBERG dvd racks together and mounted them on the wall. Note:I cut one of the sections out of one rack to clear the heater.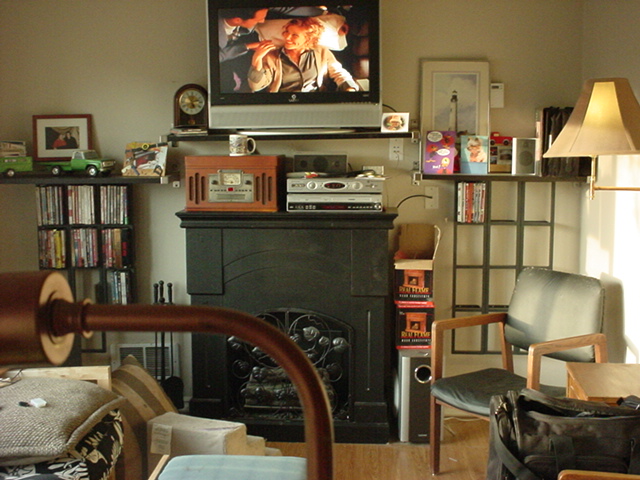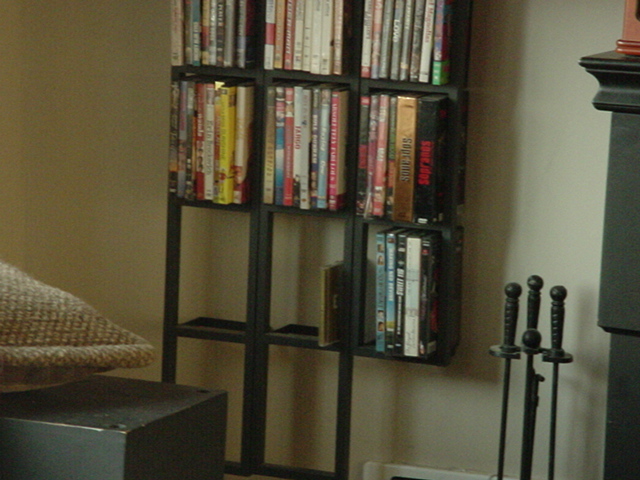 MY "BUILT-IN" CHINA CABINET
An old hack- I took a bookshelf- can't think of the name offhand and built it in to the wall- to show off my china and such.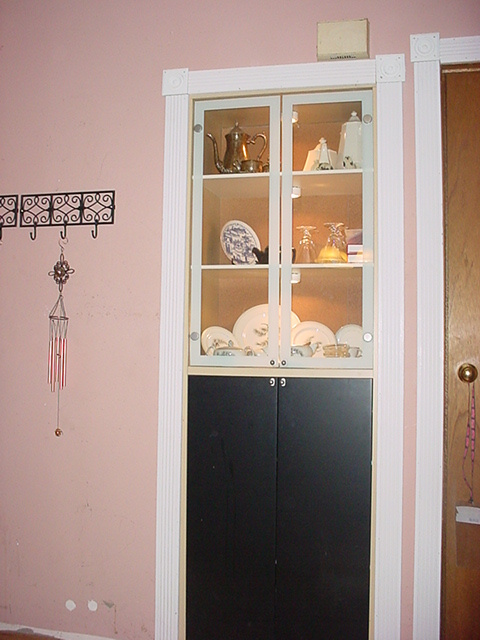 RAST YOUR FEET OR YOUR SEAT!
Another simple hack! I upholstered two RAST bedside units to make footstools that double as a coffee table!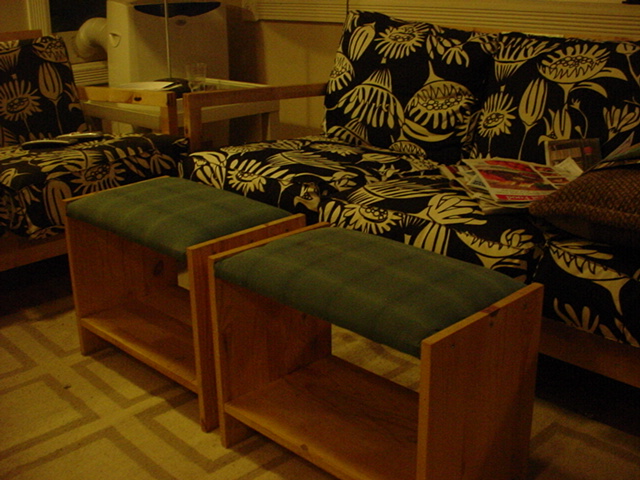 DRY BAR
another simple hack- I took teo Billy units and installed two Jarpen shelves between them using "L" brackets and added a hanging glass holder and a Vurm wine rack to the underside of the top one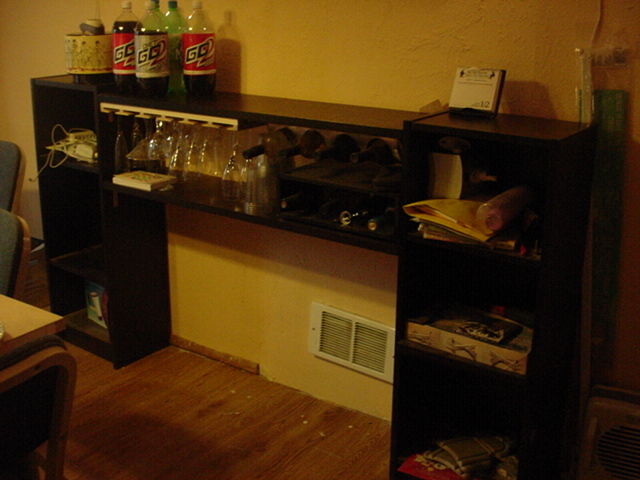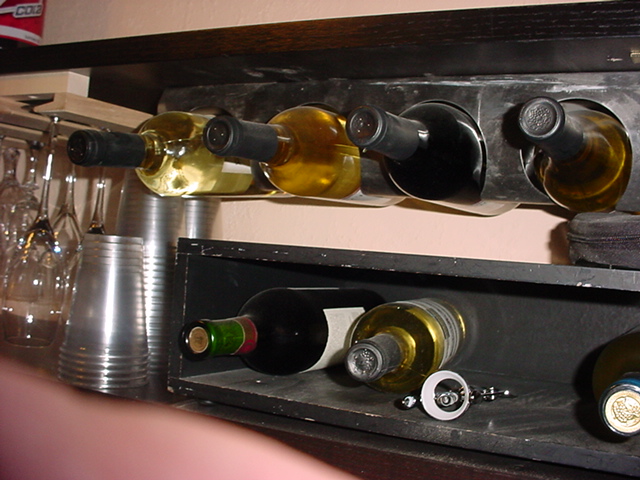 My favorite hack links: